Call or text for free instant quote
404-838-3619
Thank You for visiting higher power pressure wash
House Washing
Higher Power pressure wash can can satisfy all your pressure washing needs in the Powder springs, ga area, from pressure washing siding to washing your decks and driveways. We know as a homeowner the appearance and cleanliness of your home is important to you. Higher Power pressure wash can renew the beauty of your home, by washing away mold from siding, streaks from gutters, and restoring blackened concrete to an almost like new appearance, increasing the attractiveness and value of your home.
Pressure washing powder springs ga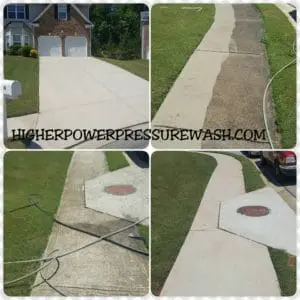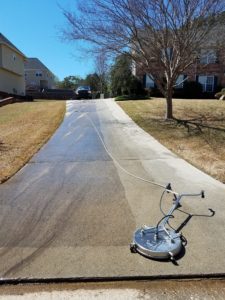 Driveway & Concrete Cleaning
Most of the stains present on driveways & sidewalks are caused by mold growth. Mold spores infest the concrete and grow in shady and moist areas. If the concrete areas have poor drainage and allow water to puddle after rains the mold growth will be worse. Concrete can also be stained by tannin from tree leaves and red clay runoff. Higher Power pressure wash can restore your stained driveway and sidewalks, cleaning them with dramatic results. We first saturate the concrete with a detergent solution which loosens the dirt and grime. Then we use a surface cleaner, a machine powered by a pressure washer, to clean the concrete. After cleaning we thoroughly rinse the concrete, and mist the newly cleaned concrete with a special solution to kill any remaining mold spores, ensuring the concrete stays clean for as long as possible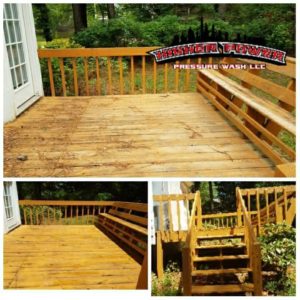 Deck Cleaning
Over time decks & patios can become faded by the sun through UV rays and covered by mold & mildew. Deck cleaning is an important part of maintenance and increasing the life of your deck or other wood structure. Cleaning is necessary to maintain a bare wood deck, in preparing a deck to be stained, and in cleaning and increasing the longevity of the finish after staining. Wood is one of the most difficult surfaces to clean with a pressure washer, wood can be easily damaged through the use of high pressure or strong chemicals. To clean a deck is important to use low pressure and an even application of the pressure to ensure a smooth finish. We clean bare wood decks, decks that have been stained or painted, decks made from composite materials and vinyl pickets, columns, and railing.

Pressure washing powder springs ga
Check out more videos and reviews on all our social media
Driveway cleaning powder springs ga
pressure washing services powder springs ga
pressure washing prices powder springs ga