Getting a good estimate
Get at least three bids. As with any project, it's wise to get multiple bids. When you set out to find a contractor, get at least three bids to ensure you've done your proper homework. Spend some time researching and don't just choose from the first five companies that show up on an Internet search. Choose a variety of small and large businesses, take recommendations from family members, neighbors and friends and make sure to get a minimum of three references from each contractor.
Call suppliers to determine material costs. Part of the contractor's estimate involves the cost of materials. However, most contractors include an outline of the materials cost for a full accounting of the project. Since some contractors can get carried away with marking up prices, you might want to call the suppliers yourself to determine how much the materials cost without the mark-up. This will help you figure out if the contractor's mark-up is reasonable. Be leery of really low prices. Everyone wants a discount. That can be a good thing, but the price for materials isn't going to vary wildly enough to make up for a bad job.
Consider the time taken to deliver the estimate. If a contractor tells you that he or she will have the estimate by next Tuesday, but doesn't actually get it to you until Friday, this is likely a reflection of his or her work on the job as well. If you want to find a contractor who sticks to his or her word, consider whether or not they did everything they said they would in regard to the estimate. Doing so is a good way to evaluate the future of your project and prevent any possible setbacks due to bad work ethic.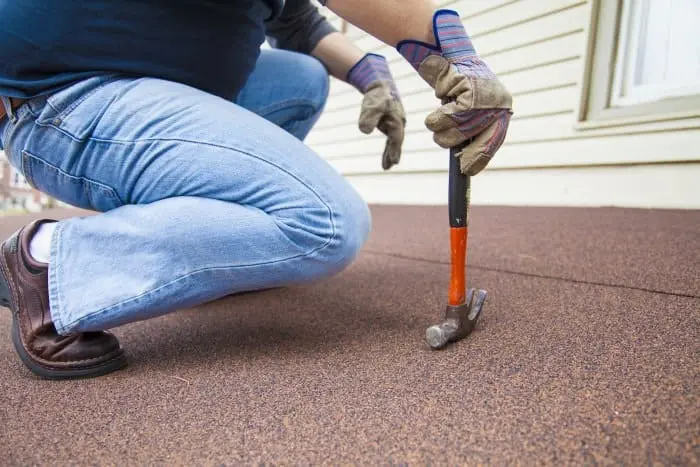 Don't hire a contractor who'll take the money and run; do your due diligence when hiring. (Photo by Katelin Kinney)
Questions to ask
There's so much to think about in hiring any contractor, especially for a major project. Be sure to follow these tips to find a contractor who fits best with your own thinking:
• Does your contractor have a headquarters? Homeowners should want their contractors to operate from a permanent place of business. If the contractor is not permanently established, how can you be confident that they will complete the work or be in business tomorrow should there be any problems?
• Is this company insured, and is the coverage adequate? When you find a contractor you think you want to hire, make sure that employer has workers' compensation and general liability insurance in case of accidents on the job. Ask for copies of these policies and keep them on file.
• Is the company in good standing with a trade association?
• How long has the company been in business? You might want to be leery of a contractor promising to be an overnight success. A long-time, well-established contractor is likely to be a safer bet. Considering the length of time a contractor has been in business is a good indicator of their ability; however, there are many contractors who claim years of experience. Protect yourself by asking for proof of business length.
• What is the contractor's record on complaint resolution? Make sure to get references, and review past work.
• Does the company provide sufficient details for the project being performed?
• Make sure everything is in writing. The contract is one of the best ways to prevent problems before you begin. The contract protects you and the contractor by including everything you have both agreed upon. Get all promises in writing, and spell out exactly what the contractor will and will not do. When receiving the contract, make sure all concerns are addressed to avoid a miscommunication. Do not accept vague proposals or prices written down on the back of a business card.
• Do your homework. Whether you are in need of a new roof, repairs, maintenance, gutters or skylights, it is important to do your research.
The best way to prevent a bad experience when you're trying to find a contractor is to know the warning signs. If you take a proactive approach to hiring and researching all potential candidates, your chances of a negative experience should be reduced significantly. Use the following tips to help you spot problematic contractors and resolve any issues if they should arise:
• Avoid door-to-door solicitors and those who only accept cash payments, offer discounts for finding customers or pressure you to make a quick decision.
• Verify the business is licensed to operate in your area, and check to see whether it has a local address. Besides the fact that it makes it easy to reach the contractor, it also shows that the company has established itself and it provides more legitimacy. You should definitely avoid contractors who only want to give you a telephone number.
• Ask the contractor for multiple references from past customers and check them. Visit the job sites if possible and speak to the homeowners. A contractor who doesn't want to provide any references should be avoided.
What is a contract?
People sign contracts for many services, often without even reading them. Every time you sign a credit card receipt, or check a box agreeing to the terms of service on a website, you are legally binding your name to a contract.
Contracts can be lengthy, especially when it's a major remodeling job run by a general contractor, and they're written in legal jargon that is difficult to understand. In most cases, the contract was crafted by a lawyer whose job was to protect the company or person named in the contract, yet most people are quick to sign a contract without even reading it.
Working with contractors
After you hire a contractor and sign a contract, it's important to understand what to expect during the course of a project. Honest contractors depend on satisfied customers, but sometimes, especially during complex projects, homeowners and contractors need to find ways to work together to solve unexpected