Via GreenSeason
Why is the Outside of my House Green and How Do I Clean It?
A lot of home owners have a similar question at some point in their lives, "Why is my house turning green and how do i fix it?"  Chances are the green on your home is green algae, moss or mildew.  The good news is it is fairly simple to clean.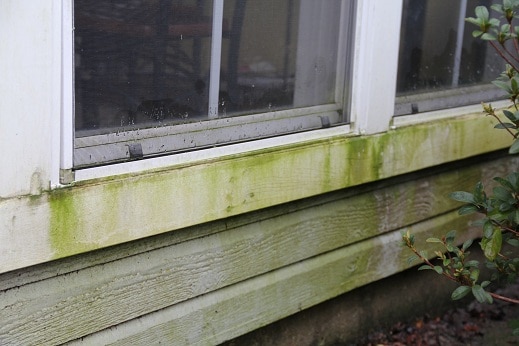 Cleaning Algae from Large Areas, Like Your Entire Home
If you have a large area that needs to be clean, like your entire home, do the following:
Either rent a pressure washer with an exterior cleaning solution or hire a professional.  Hiring a professional could end of saving you in the long run, especially if you have brick exterior. Bricks and especially the mortar between them can be damaged by using a power washer incorrectly and the repairs on that will be far more expensive than the cost of hiring someone to take care of it for you.
What Causes Algae, Moss and Mildew to Grow On The Side of my Home?
Sunlight
Areas with a lot of sun will be more likely to grow the green stuff.
Water
If the area it is growing is constantly damp, there is your problem.  Make sure there are not irrigation nozzles facing your home. Check to see if the area holds water.  If it holds water, you may want to create a small trench to drain the area or install some drainage. If it is a continuous problem, you may want to invest in gutters for your roof to divert water away during storms.
Dirt
Believe it or not, dirt can be the culprit even when everything else has been taken care of.  Dirt is able to hold enough water to allow your algae infestation to take hold.  If this is your problem, you should look into having your home power washed.  A good preventative measure for this would be storm gutters for your roof.  Another helpful, and cheaper, option would be mulching the beds near the problem area to prevent rain from splashing dirt onto the wall.
Plants
Plants can leave sap and living tissue on your home.  Algae loves this stuff.  Keep your plants properly pruned away from your home.  If you are planning a new landscape bed, try and keep a good distance from your home.  One mistake a lot of people make is they plant shrubs and trees a good distance from their home at the size the plant is when they put it in the ground.  Unless you transplanted the shrub or tree full grown, you will have a problem with it in a few years.
Air Flow
Areas of your home's exterior without proper airflow usually retain moisture.  Keep plants pruned in these areas and try to place structures or decorations where they do not prevent air from moving freely in these problem areas.